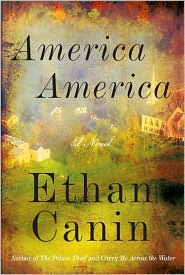 America, America
by Ethan Canin
336 pages
Published June 2008 by Random House Adult Trade Publishing
Synopsis:
In the early 1970s, Corey Sifter, the son of working-class parents, becomes a yard boy on the grand estate of the powerful Metarey family. Soon, through the family's generosity, he is a student at a private boarding school and an aide to the great New York senator Henry Bonwiller, who is running for president. Before long, Corey finds himself involved with one of the Metarey daughters as well, and he begins to leave behind the world of his upbringing. As the Bonwiller campaign gains momentum, Corey finds himself caught up in a complex web of events in which loyalty, politics, sex, and gratitude conflict with morality, love, and the truth. Ethan Canin's stunning novel is about America as it was and is, a remarkable exploration of how vanity, greatness, and tragedy combine to change history and fate.
My review:
So I never could understand why anyone was impressed with Henry Bonwiller--I never felt like he was being sincere when he gave his little "for the people" speeches, so I had a hard time buying into the idea that so many people would be so willing to do so much for him. I was surprised that Corey didn't have a hard time with the fact that this family that has him to dinner, takes him on a boat trip, sends him to school still considers him not much more than an employee. I also felt like the last part of this book dragged on a bit. That said, I really enjoyed this study of loyalty, morality, and obligation as it explored our class system, political system and the media.
I listened to this one and was really impressed with the narration, as was Devourer of Books who wrote:
"Oh. My. Gosh. Don't tell my husband, but I might have a little audio crush on the narrator, Robertson Dean. He has such a gorgeous voice, mellow, but with lots of emotion. He kept me calmly focused on the story through the worst traffic jams and the most annoying house cleaning. " I concur!