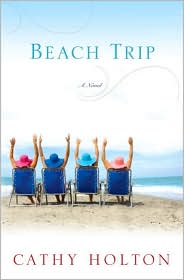 Beach Trip
by Cathy Holton
432 pages
Published May 2009 by Random House
Four women reunite 23 years after they graduated from college at the beach house of one of the friends. Spacey Lola leans on pharmaceuticals to help her deal with a miserable marriage. Obsessive-compulsive Annie is still dealing with feelings about a relationship with a professor when she was in college and her eventual willingness to settle on the safe choice for a husband. Mel, successful writer but unsuccessful in marriage, is the free spirit. Sara, who has long-buried issues with Mel, is dealing with the medical condition of one of her children. As the week progresses, and with the help of plenty of libations, secrets begin coming out.
This is something more than a beach read--despite the title and cover. The book alternates between scenes from the ladies college years, scenes from the intervening years, and scenes from the current reunion. All of the ladies were very believable characters in their college years but I had some trouble even at that point believing that they had tight friendships. I felt like all of them lead fairly predictable lives after college and that Holton was really working to set each of them up as having an individual issue to deal with. I actually couldn't imagine why they would even want to get back together after all of the years apart and when their time together started, they couldn't seem to figure out why they had come either. One of the big surprises was not a surprise to me by the time it was revealed but Holton did pull out a big surprise that almost no one seems to have figured out ahead of time. If you like books about relationships between women, this may appeal but the length may put some people off.
I read this book as part of the Summer Reading Series sponsored by Mari at Bookworm With A View and Lisa at Books On The Brain. At Books On The Brain, you can find quite a lot of discussion on the book including answers from Cathy Holton (http://lisamm.wordpress.com/2009/06/14/summer-reading-series-beach-trip-discussion-questions/). As you'll notice, there were certainly a lot of people that enjoyed this book very much.