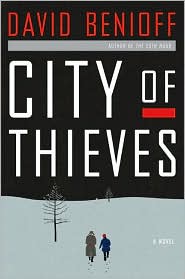 By David Benioff
272 pages
Published May 2008 by Penguin Group
Recently released in paperback

Synopsis:
During the Nazis' brutal siege of Leningrad, Lev Beniov is arrested for looting and thrown into the same cell as a handsome deserter named Kolya. Instead of being executed, Lev and Kolya are given a shot at saving their own lives by complying with an outrageous directive: secure a dozen eggs for a powerful Soviet colonel to use in his daughter's wedding cake. In a city cut off from all supplies and suffering unbelievable deprivation, Lev and Kolya embark on a hunt through the dire lawlessness of Leningrad and behind enemy lines to find the impossible.
My review:
I'm just going to say it up front--I loved this book. Honestly, I thought it sounded interesting but I was not expecting to like it as much as I did. This coming-of-age story is set against the background of the siege of Leningrad.
With a siege as a backdrop, you would expect to be horrified--and Benioff does not pull any punches here. You would expect the story to be sad, and it is, although you will be astounded by the resilience of the Russian people. You would not expect humor, but Benioff is even able to give the reader that. Lev and Kolya's relationship is marvelous and very real. So many authors feel the need to squeeze all of their research into the story, but Benioff has a deft touch with his research, not allowing it to overwhelm the story. The pacing is perfect. The story moves along well, with a nice mix of action and quiet moments. Some books I recommend to my female friends, some to the males; this one I recommend to everyone.