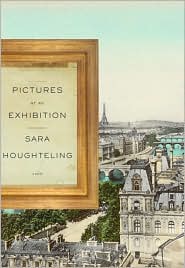 Pictures At An Exhibition
by Sarah Houghteling
243 pages
Published February 2009 by Knopf Publishing Group
Synopsis:
Born to an art dealer and his pianist wife, Max Berenzon is forbidden from entering the family business for reasons he cannot understand. He reluctantly attends medical school, reserving his true passion for his father's beautiful and brilliant gallery assistant, Rose Clément. When Paris falls to the Nazis, the Berenzons survive in hiding. They return in 1944 to find that their priceless collection has vanished: gone are the Matisses, the Picassos, and a singular Manet of mysterious importance. Madly driven to recover his father's paintings, Max navigates a torn city of corrupt art dealers, black marketers, Résistants, and collaborators. His quest will reveal the tragic disappearance of his closest friend, the heroism of his lost love, and the truth behind a devastating family secret.
My Thoughts:
Meticulously researched, Houghteling wraps a fiction story in the history of the Paris art scene in the time period surrounding WWII. Houghteling has, in fact, done so much research that the book can get bogged down in the prcoess as she tries to fit it all in. There are so many stories going on in this book that Houghteling doesn't follow through on except Max's personal quest to earn his father's respect and try to learn why they've had the relationship they've had. The only way to solve this problem would have been to make the story longer, and, frankly, it was a slow read as it was. Max's quest did begin to feel a bit like something out of a movie--you know the ones, where everything that can go wrong, does. Houghteling has talent and this is a debut novel that will make people look forward to her sophomore effort.
I must say, I did agree with S. Krishna, at http://www.skrishnasbooks.com who wrote in her review of this book: "I have to say, my favorite part of the book was the Afterword. Houghteling takes the time to explain her sources and shows that most of the book comes from actual historical documentation. I found this fascinating, and wished all the more that the recovery of looted art had been more of a focus for the book."