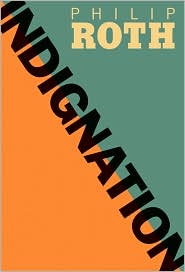 I

ndignation

by Philip Roth

256 pages

Published September 2008 by Houghton Mifflin Harcourt

Synopsis:

It is 1951 in America, the 2nd year of the Korean War. A studious, law-abiding, intense youngster from Newark, New Jersey, Marcus Messner, is beginning his sophomore year on the pastoral, conservative campus of Ohio's Winesburg College. He's left the local college in Newark where he originally enrolled because his father, the hard-working kosher neighborhood butcher, seems to have gone mad — mad with fear and apprehension of the dangers of adult life, the dangers of the world, the dangers he sees in every corner for his beloved boy. As the long-suffering, desperately harassed mother tells her son, the father's fear arises from love and pride. It produces too much anger in Marcus for him to endure living with his parents any longer. He leaves them and, far from Newark, in the midwestern college, has to find his way amid the customs and constrictions of another American world.

My Thoughts:

Okay, I know Philip Roth's a genious and I'll admit to really liking his writing style. I'm still, three weeks later, not sure I liked the story. Marcus seems to be so levelheaded but then gets to Winesburg and is so rigid in believing his actions are justified that he becomes something of a loose cannon. Why? And why did his father suddenly become so worried about him? His reaction was entirely out of proportion to his justification for being so worried. A lot of ground is covered in this story, but in large part it seems to come down to being a vehicle for Roth to rail against religion.

Followup 06-11-09: This morning I received a comment from a person who chose to remain anonymous but who told me, essentially, that I am unable to interpret literature. First of all, let me make this very clear--I am not a literature professor nor a paid reviewer and have never claimed to be. But I have made a couple of adjustments to my review until I can verify whether or not my statements regarding this book were correct.

The final word: I stand behind my original review in which I stated that I was not giving anything away when I said that Marcus dies. Anonymous stated that Marcus did not die, that he was on morphine at the end of the book. But on page 54, Marcus himself states that he dies. I also contended that there was no real reason for Marcus' dad to become so overly worried. I stand by that as well. There certainly were reasons given for any parent to become worried about their son in the time just after WWII and during the Korean War. But Marcus' father went far beyond the usual reaction.