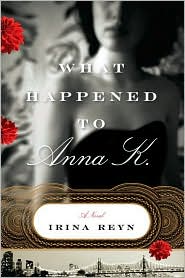 What Happened To Anna K? by Irina Reyn
256 pages
Published August 2008 by Simon Shuster Adult Publishing

Synopsis:

Vivacious thirty-seven-year-old Anna K. is comfortably married to Alex, an older, prominent businessman from her tight-knit Russian-Jewish immigrant community in Queens. But a longing for freedom is reignited in this bookish, overly romantic, and imperious woman when she meets her cousin Katia Zavurov's boyfriend, an outsider and aspiring young writer on whom she pins her hopes for escape. As they begin a reckless affair, Anna enters into a tailspin that alienates her from her husband, family, and entire world.
In nearby Rego Park's Bukharian-Jewish community, twenty-seven-year-old pharmacist Lev Gavrilov harbors two secret passions: French movies and the lovely Katia. Lev's restless longing to test the boundaries of his sheltered life powerfully collides with Anna's. But will Lev's quest result in life's affirmation rather than its destruction?

My review:
I was eagerly looking forward to reading this book after hearing a review on NPR. Amazon picked it as a "Book of the Month." Newspapers and magazine across the country had included reviews. That may account for my disappointment with this book--my expectations were just too high. Reyn does a terrific job of resetting Tolstoy's novel, giving the reader a marvelous background in Russian immigrant society, vivid descriptions of the characters and settings.

Anna is a beautiful woman who has not concept of how to have a decent relationship; she only sees men as conquests and finds most women beneath her. She is supposed to be very intelligent but this is a woman whose life choices are almost never based on reality but rooted, instead, in the happily-ever-after myth. The NPR reviewer felt that Reyn had made Anna a character that modern women could empathize with. I disagree--I think most women with find Anna selfish and arrogant. Unlike the original Anna, it's no longer a social disaster to leave your husband but when this Anna finds herself feeling stuck in her marriage, she doesn't just file for divorce, get a job and fight for her son. Instead, she allows herself to be drawn into a "great" love and walks away from her child. Had I liked her better, maybe I would have liked the book more.