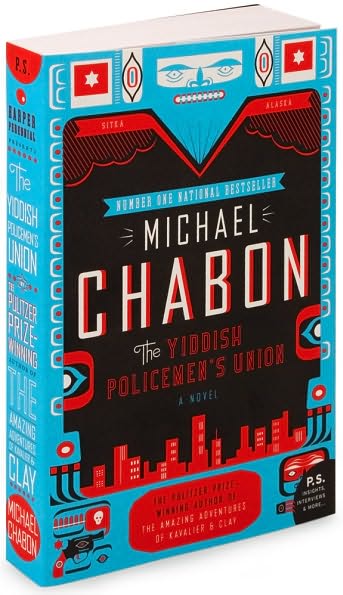 The Yiddish Policemen's Union
by Michael Chabon
432 pages
Published May 2007
Chabon is a Pulitzer Prize winner for "The Amazing Adventures of Kavalier and Klay" and also wrote "Wonder Boys" which was made into a movie starring Michael Douglas and Tobey Macguire.
Publisher's Summary:
For sixty years, Jewish refugees and their descendants have prospered in the Federal District of Sitka, a "temporary" safe haven created in the wake of revelations of the Holocaust and the shocking 1948 collapse of the fledgling state of Israel. The Jews of the Sitka District have created their own little world in the Alaskan panhandle. For sixty years they have been left alone, neglected and half-forgotten in a backwater of history. Now the District is set to revert to Alaskan control, and their dream is coming to an end. Homicide detective Meyer Landsman of the District Police has enough problems without worrying about the upcoming Reversion. His life is a shambles, his marriage a wreck, his career a disaster. He and his half-Tlingit partner, Berko Shemets, can't catch a break in any of their outstanding cases. Landsman's new supervisor is the love of his life—and also his worst nightmare. And in the cheap hotel where he has washed up, someone has just committed a murder—right under Landsman's nose. Out of habit, obligation, and a mysterious sense that it somehow offers him a shot at redeeming himself, Landsman begins to investigate the killing of his neighbor, a former chess prodigy. Then word comes down that the case is to be dropped. Landsman is having none of it.
My Thoughts:
A murder mystery in a unique setting, complete with an enormous cast of richly drawn characters, made up Yiddish words, and Jewish lore and history. It's a story where the ultra-Orthodox Bobovers turn out to be the bad guys, chess is front and center and the Messiah may have been murdered.
If you get this on CD, you get Peter Riegert doing a wonderful job with a wide range of voices. Chabon succeeds in creating both a noir thriller and a touching romance and makes for a very satisfying read. Highly recommend.