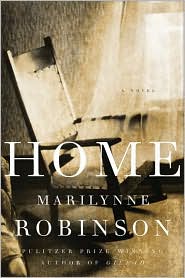 Home
by Marilynne Robinson
336 pages
Published Sept 2008 by Farrar, Straus, and Giroux
Orange Prize winner for 2009
Synopsis:
Glory Boughton, aged thirty-eight, has returned to Gilead to care for her dying father. Soon her brother, Jack—the prodigal son of the family, gone for twenty years—comes home too, looking for refuge and trying to make peace with a past littered with tormenting trouble and pain.
Jack is a bad boy from childhood, an alcoholic who cannot hold a job, he is perpetually at odds with his surroundings and with his traditionalist father, though he remains Boughton's most beloved child. Brilliant, lovable, and wayward, Jack forges an intense bond with Glory and engages painfully with Ames, his godfather and namesake.
My review:
Pulitzer-prize winning Robinson writes beautiful, languid stories that cannot be rushed through. Jack is a marvelously complex character--a one moment you want to hold him in your arms and comfort him and in the next you want to slap him upside the head and tell him to get his stuff together. His relationship with his father, a retired Presbyterian minister, is complicated--by his father's failing health, his father's unwavering beliefs, and Jack's desire to live up to his father's love without being able to embrace his father's faith.
The story is as much about Glory, who is also struggling with her own demons. Having Jack around helps Glory not only deal with their father, but helps her deal with her ghosts--a broken engagement, the death of a niece and own complicated history with Jack.
There is a "surprise" at the end of the book, which did not come as a surprise to me but explains a great deal about Jack's present pain. And there are no neat and tidy endings in the book--Robinson does not write happily-ever-after stories.